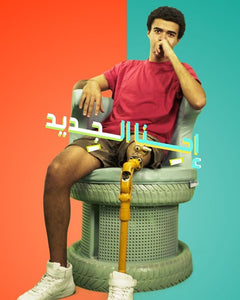 "Experience the epitome of comfort and sustainability with our best-selling FlexSwing Armchair – a masterpiece designed to make your dreams take flight. Crafted from a unique blend of upcycled components, including tires, washing machine drums, upcycled leather, and reclaimed wood, this flexible armchair is more than just furniture – it's a statement of conscious living.
🪑 Swing into Dreams: Picture yourself in the perfect moment of relaxation as the FlexSwing Armchair cradles you with unparalleled comfort. Its flexibility allows you to swing in any direction, turning your dreams into reality right in the comfort of your home.
🌿 Upcycled Elegance: We believe in the beauty of transformation. By combining discarded tires, washing machine drums, upcycled leather, and reclaimed wood, we've created a chair that not only adds a touch of elegance to your space but also contributes to a more sustainable planet.
🌍 Environmental Impact: Your purchase goes beyond just acquiring a remarkable piece of furniture. It's a conscious choice to save the environment. By choosing the FlexSwing Armchair, you're preventing 20 tires and other solid wastes from ending up in landfills or being burned, mitigating hazardous environmental impacts.
🛡️ Strength Meets Sustainability: Built to last, the FlexSwing Armchair boasts a remarkable weight capacity of up to 400 kilograms. Its sturdy construction ensures durability, making it an investment in both your comfort and a greener future.
Make a statement with your choices. Choose the FlexSwing Armchair – where luxury, flexibility, and sustainability converge.
🌈 Dream. Swing. Thrive. FlexSwing. 🚀
#SustainableLiving #UpcycledDesign #FlexSwingArmchair #ConsciousChoices #EnvironmentalImpact"